On-Trend Kitchen Interior Styles for the Year Ahead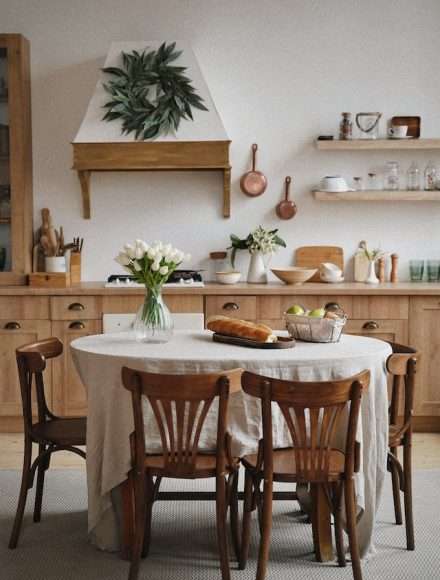 Are you redesigning your kitchen for the upcoming year? While some timeless styles never go out of fashion, incorporating the latest trends into your design can give your kitchens a fresh and stylish update. This blog post will take an in-depth look at different ways to transform your kitchen into a chic and modern space, whether you prefer subtle touches or more contemporary designs. From adding statement pieces to embracing the minimalist trend, let's find out which on-trend kitchen interior styles are perfect for achieving the home of your dreams.
Today's post is from the kitchen design experts at Verana. Verana is of the UK's leading suppliers of technologically advanced boiling water taps to homeowners; find out more about how Verana's boiling water taps work.
Traditional Kitchens: Timeless and Classic
With the passing of time, traditional kitchens have become timeless and classic pieces in modern households. This type of kitchen interior style is proving to be on-trend for the year ahead due to its simplistic and chic design. From vibrant blue hues to soft pastel tones, you can show off your style with traditional kitchens while staying true to your home's roots.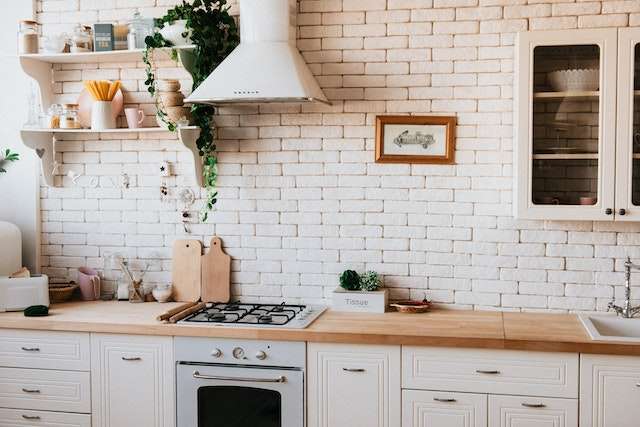 Incorporating features such as intricate cabinetry, muted appliances, and detailed wainscoting provides an elegant atmosphere with a hint of historical aesthetic for any homeowner looking for a unique kitchen design. Traditional kitchens continue to be popular among homeowners thanks to their infinite possibilities for design options, allowing us to reflect our own personal taste in each room of our home.
Modern Kitchens: Making the Most of Space and Technology
In today's modern homes, having a practical and aesthetically pleasing kitchen is essential. Future trends indicate that modern kitchens that efficiently utilize space and incorporate the latest technology will be all the rage this year. These kitchens will feature sleek cabinetry and modern appliances, as well as plenty of natural light and airy open shelves, making them both functional and beautiful at the same time.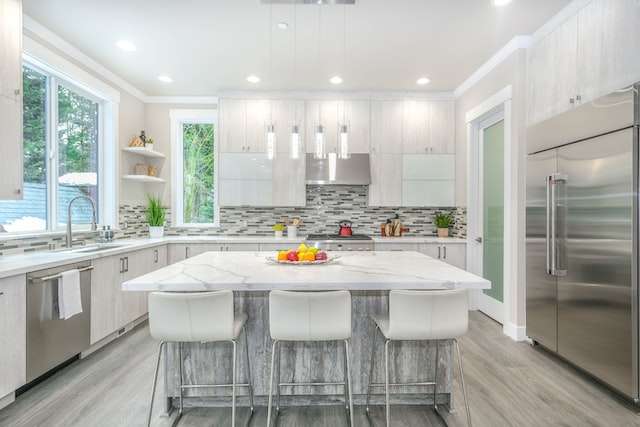 State-of-the-art gadgets like hands-free faucets and voice-activated ovens will further add to their usability while making any home chef feel like they are working in a high-end restaurant. Designers are also focusing on utilizing native flora to decorate countertops with herbs, greens, or even decorative fruits to bring a touch of nature into an otherwise manmade environment. With these technological wonders and clever use of space, cooking can become easier than ever before!
Monochrome Kitchens: Simplicity at Its Best
If you are looking for a kitchen design that's timeless, monochrome kitchens are the way to go. Embracing simplicity and offering a clean, classic look, they provide a modern edge while maintaining a touch of sophistication. Monochrome blends of white and black allow you to craft an interior focal point with subtle details like stripes or geometric shapes. To add a hint of colour, pair the monochrome scheme with natural woodgrain surfaces to create contrasts and interest within the space.
Monochromatic colouring can be adapted for any kitchen style, ranging from traditional spaces to more contemporary areas. With consideration for texture and shapes as well as colour choices, this timeless look suggests simple elegance for your kitchen that won't date anytime soon—making monochrome kitchens an on-trend style for the year ahead.
Eclectic Kitchens: Combining Different Styles for a Unique Look
With the current trend of interior design emphasizing a unique and individualized feel, eclectic kitchens are becoming the hottest thing for 2023. This style combines different design components from various sources to create a mix-and-match aesthetic where each element stands out on its own. For example, combining Moroccan tiles with sleek, modern appliances and vintage wooden furniture creates a truly interesting atmosphere that is sure to make any kitchen feel yours uniquely.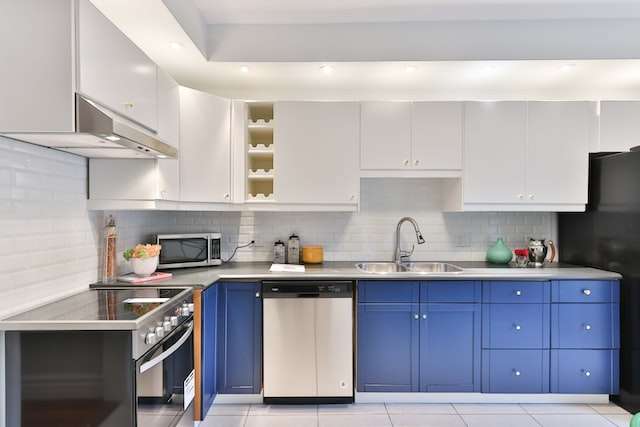 Eclectic kitchens are great for those looking to bring some personality back into their home while maintaining a sense of harmony due to the carefully selected pieces that make this style so attractive. With careful planning and dedication, creating an eclectic kitchen is a rewarding way to start the year off right!
Farmhouse Kitchens: Rustic Charm with a Touch of Coziness
Farmhouse-style kitchens are becoming highly sought after for the year ahead, offering a creative blend of rustic charm and domestic cosiness. Guests and homeowners alike will delight in the warm hues of exposed wood beams, open shelving, and patterned tile floors that offer a natural element to the kitchen's aesthetic.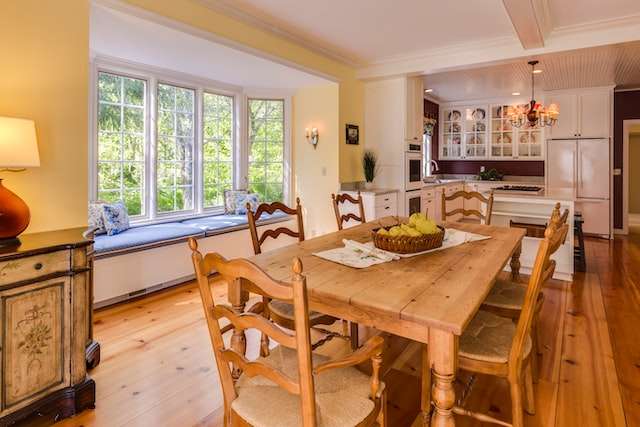 A careful mix of rustic elements, including wire baskets, vintage knick-knacks, or large wooden chests, can add additional warmth and character to the kitchen space. An abundance of natural light brings out soft textures in warm earth tones that make this interior design style irresistible. Whether you are redecorating your current kitchen or designing a completely new one, selecting a farmhouse-style interior design will bring much joy throughout the year ahead.
Minimalist Kitchens: Less Is More
Minimalist kitchens are becoming increasingly popular due to their versatile and aesthetically pleasing designs. Not only do they look beautiful, but they also offer a less cluttered feel and an opportunity to maximize functional space. Less is definitely more with minimalism; the focus is on only allowing those items that are absolutely necessary within the kitchen.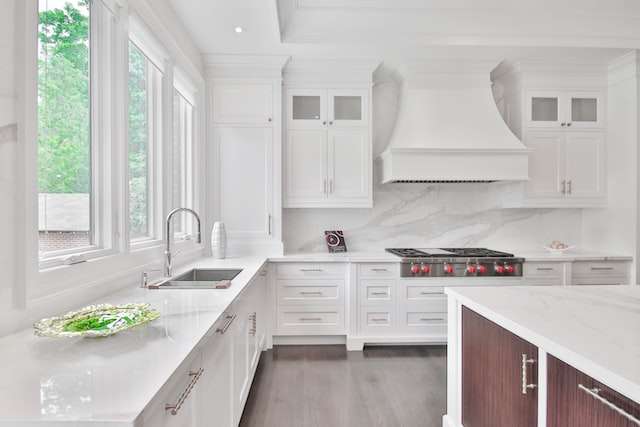 The stark yet elegant simplicity of these kitchens can create a soothing backdrop for any home that inspires creativity and offers comfort. These modern kitchen styles make it stylishly easy to update your living spaces with sleek countertops and stunning cabinetry and utilize appliances with smart functionality. For 2023, minimalism remains a top trend in interior design – evidenced by its timeless appeal in kitchen designs over the last decade or so – so you can bet this style will go strong into the New Year.
Scandinavian-Style Kitchens: An Open and Airy Feel
Scandinavian-style kitchens have been rapidly rising in popularity this past year, and there is no sign that they are letting up in 2023. These kitchens give the home an open and airy feel while providing plenty of flexibility in terms of design options. The clean lines, bright colours and minimalist style can create a modern and streamlined look without sacrificing comfort. It also allows large pieces of furniture to fit right into the décor without cluttering the room.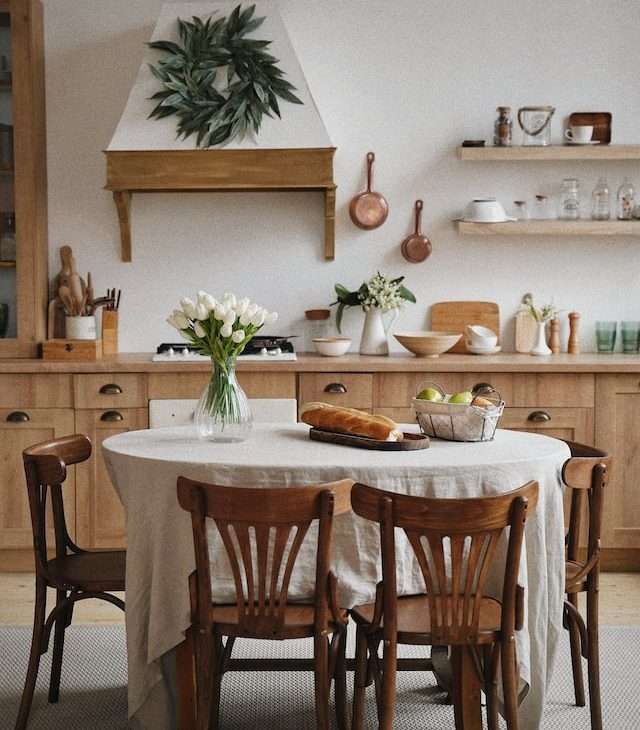 Scandinavian-style kitchens are perfect for a variety of different family dynamics and lifestyles, as it gives people a lot more freedom when it comes to how they choose to decorate their kitchen. Whether you prefer a classic look with just a few key pieces or a more minimalistic approach, these kitchens offer great potential for you to create the space of your dreams.
Industrial-Style Kitchens: The Chicest of Contemporary Styles
Industrial-style kitchens will continue to be popular in 2023 as they blend contemporary design with a touch of old-world charm. Featuring stainless steel appliances, light fixtures, industrial materials like raw steel and concrete, and essential furnishings, these chic kitchens will surely provide character and charm to any home.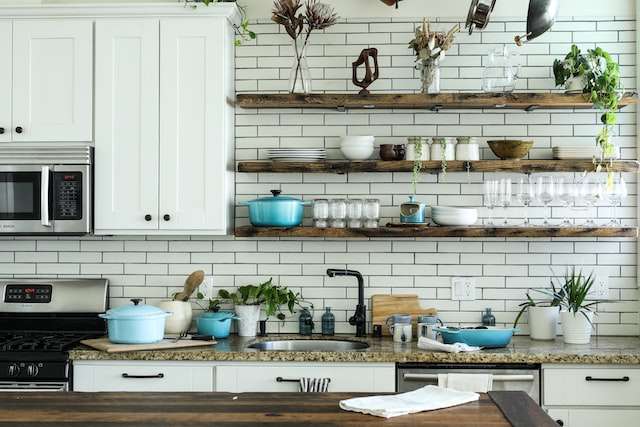 From cosy yet modern farmhouse vibes to a timeless look that gives an aura of urban sophistication, an industrial-style kitchen can easily cover a range of interior design needs while creating stunning visual appeal. Industrial-style kitchens are an excellent choice for the year ahead in terms of taste and style but also for their practicality; this kitchen style is incredibly functional with plenty of storage solutions. Ultimately, from eating space to an entertaining area or even just a regular cooking experience capacity, the possibilities for industrial-style kitchens are endless!
Shaker-Style Kitchen Cabinets: Understated Elegance
Interior design trends come and go rapidly, so it is easy to feel overwhelmed by constantly changing fashions. Luckily, shaker-style kitchen cabinets offer a timeless solution allowing homeowners to keep up with the trends without sacrificing classic appeal. These understated cabinets feature clean lines and a minimalist look with just enough texture to provide warmth and charm.
Stylish yet simple, these cabinets give any kitchen an elegant but modern design aesthetic. They also pair beautifully with many different countertop options – from sleek marble to reclaimed wood – offering lots of flexibility for customizing unique looks. With beautiful styling and unbeatable versatility, shaker-style kitchen cabinets are an excellent choice for those eager to create stunning kitchens that stay on-trend for years to come.
Transitional Kitchen Design Ideas: Combining Traditional and Contemporary Elements
Transitional kitchens are the top trend for the year ahead, combining traditional and contemporary elements to create a unique and modern look. These designs feature clean lines while also bringing warmth and character with well-chosen materials. Man-made elements like stainless steel appliances can be softened with natural materials like stone or wood accents. To keep the traditional appeal, incorporate subtle detailing such as crown mouldings, recessed panels, and classic hardware pieces into the design.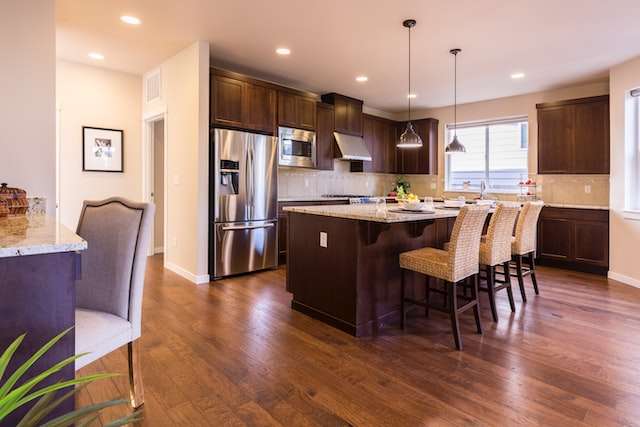 Finally, selecting a neutral colour palette of greys and whites for your countertops and cabinets will help draw together all of the different elements into an appealing whole. Whether you're aiming for a cosy homey look or something sleek and modern, transitional kitchen design ideas are ideal for those who want to stay on trend in 2023.
FAQs
What design elements should I consider when choosing a kitchen style?
When selecting the ideal style for your kitchen, you should consider many design elements, including a kitchen backsplash. Think about functionality. An open plan might be great for entertaining but can lead to an untidy look that could make food preparation difficult. On the other hand, a closed kitchen will offer a tidy look but may not be as inviting for guests. Colours can also impact design; warm hues or cool pastels can create different atmospheres depending on the desired effect.
Materials such as stainless steel and marble can create a sleek and modern aesthetic if you want to inject some personality into the space. Lighting is also key in creating an inviting atmosphere; think wall-mounted lamps, pendant fixtures and even drop lights to add a softer feel to the kitchen. Ultimately, considering each design element, you can create a beautiful, functional kitchen more suited to your taste and lifestyle.
How do I know which style is best for my kitchen?
One of the most important decisions when designing a kitchen is choosing the style that best expresses your preferences and complements your home. It can be challenging to decide which look is right for you, but research is key for finding out what works in each space.
Start by assessing the overall size and shape of the room, as well as taking into account any existing built-ins or permanent kitchen features like cabinets or appliances. Once you have established a framework, then it is time to explore all the amazing design possibilities out there!
From modern to vintage, industrial to rustic, there are many ways to create a unique kitchen that meets your style needs and functional requirements. With diligent research and tailored shopping choices, anyone can find the perfect recipe for designing their dream kitchen!
How can I combine different styles to create something unique in my kitchen?
Combining different styles can be a great way to create something unique in your kitchen. It's all about experimentation, so grab some idea books, check out some magazines and online sources, and get ideas you love. Start mixing and matching different elements to see what works together.
For example, if you like a vintage style and find a modern light fixture that inspires you, don't hesitate to bring the two components together in a sleek, stylish design. You may also want to mix designer pieces with found objects for an eclectic look that expresses your own personal tastes. Don't be afraid of colour either – choose your favourite shades for the walls and furniture that could blend well together. With a pinch of imagination and creativity, you can turn any kitchen into something special that's truly one-of-a-kind.
Finally, don't forget about adding personal touches throughout your kitchen space! This could be anything from displaying artwork that reflects your style or incorporating items from travels or hobbies into the decor. These small details make all the difference when creating an interesting and unique kitchen style. So don't be afraid to express yourself through art and other fun accents!
What type of materials should I use to create a traditional, modern or farmhouse-style kitchen?
Creating the perfect kitchen is a highly personal experience; no two kitchens are alike. If you are looking for a traditional, modern, or farmhouse-style kitchen for your home, the choice of materials can be the deciding factor between an ordinary kitchen and one that stands out from the rest.
Traditional kitchen designs look great with solid wood cabinetry in oak, cherry or hickory. Countertops made of marble and granite keep in line with a classic look while providing durability and strength. Regarding modern décor, sleek lines and shiny chrome accents pair nicely with stainless steel surfaces.
For a farmhouse-style kitchen design, use rough-hewn wood surfaces combined with white cabinets to get a relaxed look with plenty of charm. The possibilities are limitless when creating the perfect traditional, modern, or farmhouse-style kitchen – have fun and let your imagination be your guide!
How does transitional design differ from traditional and contemporary styles?
Transitional design is a style that lies between traditional and contemporary designs in aesthetics and construction. This style of architecture often combines the best of both these worlds to create an inviting and unique space. Transitional spaces typically feature a mix of clean lines, comfortable textures, and neutral tones, creating a subtle backdrop for architectural features. Emphasis is placed on natural lighting and fabrics paired with wood furniture to ensure a relaxed atmosphere.
Although the transitional design is based on traditional foundations, it also branches out into more modern items such as steel elements and contemporary furniture pieces. As such, it allows homeowners to add personality to their living spaces without sacrificing timeless elements. Ultimately, designers use transitional design virtues to help individuals embrace their own personal style while ensuring an inviting place for people to gather together and enjoy life's endless moments.
Conclusion
Get ahead of the trends with your kitchen design this year by incorporating one or more of these on-trend styles. Talk to a professional about implementing these ideas in your home to enjoy a stylish, updated space that reflects the latest trends. With just a few changes, you can have an updated kitchen that becomes the envy of all your friends and family.